Suzan Hart
At 38 I found myself working 50+ hour weeks, on call on weekends, yet $50,000 upside down in credit card debt. I was stressed, exhausted and underweight. The athletic physique I once had, looked battered and frail. l had put my health on the back burner, hoping to get back to it when life gave me a breather.
My prayers were answered in a phone call from a friend. She told me about a company that was helping people transform their health, and co-create wealth. I said YES. Yes to reclaiming my health, my time and my worth. The program this company offered was simple and it allowed me to give my health the attention it needed every day. Within days I had mental clarity, energy to burn and a sense of well-being.   My eyes got back their shine, and my skin regained a healthy glow. As I returned to the gym I watched my lean muscle begin to increase and my body fat decrease. I was surprised at how amazing I felt. Today I have put on about 10 pound of lean muscle. I am healthier and I look and feel younger than I did 10 years ago.
As my health improved people noticed. They asked what I was doing and how they could get started. By putting my health first and learning to work smarter not harder, I have gone from financially upside down to financially free
---
 Duane Butler
NFL Player Finds a New Level of Fitness
According to the Washington Post, nine out of 10 NFL Players suffer at least one major injury. Furthermore, most NFL players accept a certain amount of pain as a fair exchange for football's compensation. http://www.washingtonpost.com/sf/feature/wp/2013/05/16/do-no-harm-retired-nfl-players-endure-a-lifetime-of-hurt/
This was true for former NFL and CFL football player Duane Butler. After playing professional football for 10 years Butler reports he was at a lost when it came to getting to the bottom of his physical discomfort. "My first steps in the morning were excruciating," says Butler. "Desperate, I was willing to try a variety of treatments, in hopes of getting to the root of my discomfort. I found that all each healthcare professional could provide me was temporary relief, if I was lucky. I soon began to believe the adage that all football players destroy their bodies while they are playing and suffer for the rest of their lives!"
As Butler's football career was coming to an end not only was he dealing with a host of injuries, he was also concerned about the various health concerns that plagued his family. Heart disease, diabetes and obesity are among the top four leading causes of death for the African American community and his family was no different. Determined to find a solution Butler turned to taking vitamins in hopes of finding an answer but again the relief was temporary! 67 years old and he didn't miss a beat! 
Fortunate to have a neighbor who witnessing Butlers painful journey Butler received some help. He was introduced to a gentleman that shared with him the power of nutritional cleansing and a new nutritional system. At first Butler described himself as being skeptical. "Could this man be trying to take advantage of my status to gain exposure?" At the same time, however, Butler thought the theory did make a lot of sense.
To alleviate his skepticism, Butler challenged the 67-year-old presenter to join him for a workout. "I figured if he was in such good shape then he wouldn't have any problem training with me the next morning. To my surprise he showed up, ran up hill in the woods with my dog and me and didn't miss a beat!"
Impressed, Butler decided to give the products a try. He wanted to have the same energy as he aged. "Here I am in the locker room with guys half my age and they can't even finish one practice for a host of reasons." After researching and learning more about the products and the integrity of the company he is confident that he made the right decision.
Butler has been faithfully using that nutritional system for five years now, and he's never looked back. As his overall nutrition and health improved, so has his discomfort. Nowadays, Butler is an active coach and trainer.
A newly found security
Like the gentleman who shared with him, Butler is fortunate to also benefit from his referrals. With an expanding client list, Butler is compensated $300-$500 per week just by sharing this simple, high-quality nutritional system with others.
In his role as a trainer and coach Butler is paid when he is in front of a client. His referrals, however, have created a source of passive residual income for Butler, that comes naturally to him as he integrates nutrition into his training business.
Passive income is the security Butler is building to ensure his family always has an income should he choose to retire, go on vacation or is otherwise unable to work. That security provides a peace of mind he never experienced during his pro-football years. And, he says, sharing the products that changed his health is rewarding. "Helping an athlete to increase their performance while managing their health is a gift. Helping a couple changing the way they look and feel and be financially rewarded for sharing, are all results I am proud to hang my hat on!!"
---
Angela Everett
As spring rolls around and the sun begin to warm us up, the natural response is to begin to peel off layers. It's at that moment that most are hit with reality of the unwanted pounds they gained while hibernating over the winter. Angela E. was no different. Winter was over and she had gained 20 unwanted pounds. Her solution was to do what she did every March, join a boot camp to once again get "fine for the summer".   Angela wasn't in the best shape, sleeping was hit or miss, her energy level was low and most of her clothes did not fit how she wanted wanted them to. Angela set a goal to lose 20 pounds, convinced that was all that her body needed in order for her to get "fine for the summer". After weeks of strict diet, strenuous workouts and over the top boot camps, Angela lost the weight and considered herself sundresses ready and primed for beach vacations.
Billion Dollar a year industry with few lasting results
Sound familiar? The average weight gain during the winter is about 5 pounds.  If the weight loss is successful it is usually done using fad diets that provide quick results that do not last. Imagine the compounded effect of gaining 5 pound every winter for five years. Weight loss using quick fad diets also contributes to the loss of lean muscle. The challenge is we naturally loose 1 percent of our lean muscle each year once we get into our thirties. When lean muscle is lost, the metabolism also begins to slow down. Weight loss is a billion dollar a year industry with very few lasting and healthy results.
Once Angela achieved her "fine for the summer" weight she returned to eating the same foods, not getting enough sleep and her energy level was still in the dumps.   By her 38th birthday in September of that same year Angela realized she had gained most of the weight back. The vicious cycle of getting "fine for the summer" otherwise known as a yoyo diet was no longer going to cut it.
Frustrated, Angela decided it was time to get "Fit for Life."
Looking for long-term solutions Angela remembered her boyfriend telling her about a food technology he had used to get healthy in the past. The night of her birthday Angela suggested that they order their first program and begin to reclaim their health.
What an amazing transformation! In three months Angela was able to release 25 pounds without grueling boot camps and unhealthy calorie restrictions. She gained lean muscle, and her energy level went through the roof. Angela is now sleeping through the night and no longer needs an alarm clock to wake up in the morning. According to Angela, her body has come alive physically, mentally and emotionally. She looks amazing in her clothes and feels younger than she did in her twenties.
Health is a daily journey not a destination
Last summer Angela was looking good lying out on the beach. This summer she looks and feels her best while white water rafting and kayaking. The difference, Angela realized that health is a daily journey not a destination. Angela learned that in order to reclaim her health she would have to make lifestyle changes and commit to her health everyday. By committing to small daily gains Angela is now experiencing true health for the first time.
Angela E. is a leader in the Fit is the New Sexy Movement; Black men and women who have drawn a line in the sand and have chosen to reclaim their physical and financial fitness. Angela's goal is to change the conversation about health and wealth in black America.
---
Mark Inge
A Happy Accident
Mark's professional Mixed Martial Arts (MMA) career occurred all by accident. Although a football and wrestling star during high school, the now 37-year-old MMA fighter was convinced that his passion for sports had disappeared.
In 2006, a routine day at work changed his career—and perspective on sports—for life.
"I was working at UPS as a delivery driver and stopped at one of my usual distributions, a chiropractor," recalls Mark. "They helped MMA athletes recover, but also promoted the fights. The chiropractor and I began discussing the competitions, and he gave me a ticket to check out a match."
MMA includes a combination of wrestling, jiujitsu, muay thai, boxing, kickboxing and judo. After watching a few rounds of the sport, Mark thought: "I could do that."
And the rest is history.
The Comeback Kid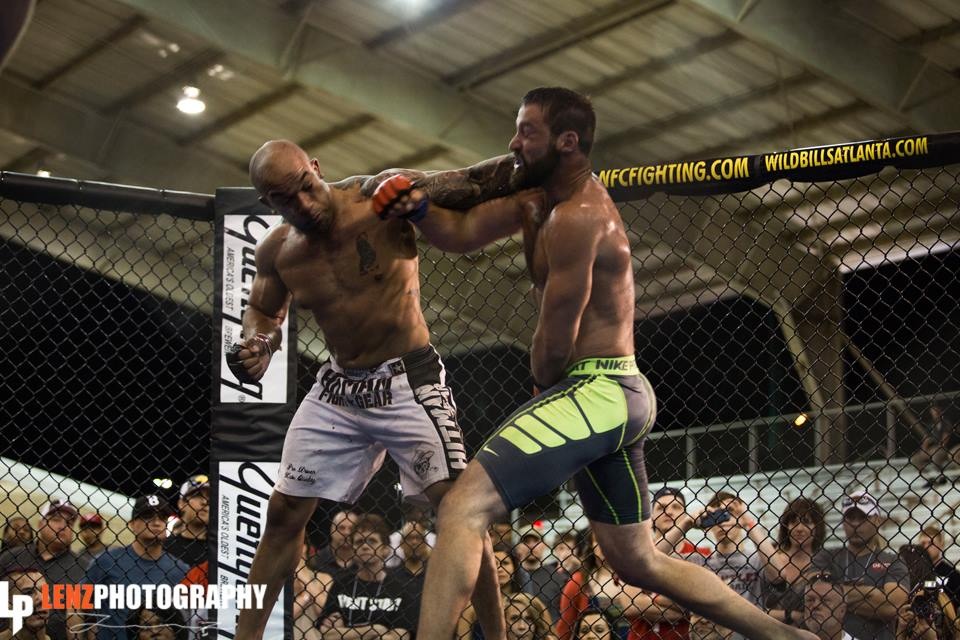 Now, Mark is an undefeated 2-0 MMA professional champion.
"The stress of a weight cut can drain you mentally as well as physically," declares Mark, who attributes his current success to Isagenix. "Before, I would starve myself to make sure I was on weight. When I switched to Isagenix, my energy level went through the roof which in turn made my stamina during fights increase because I had the energy to ramp up my training to higher levels of intensity."
Even after a fight, Mark notices a difference in recovery.
"There are different factors that go into how many days it takes to recover," explains Mark. "But, the recovery process also sped up because I was getting the vital nutrients through Isagenix products that helped my body repair itself."
From an athlete's perspective, Mark believes that the harder one pushes, the better that person will become.
"Isagenix gave me the tools of being at optimum performance levels which are crucial in the sport," says Mark. "To get what we've had, we must do what we've never done. Isagenix was that for me."
Isagenix in the Ring
After competing as an active amateur fighter and assistant coach in MMA competitions for six years, the Georgia-based fighter decided to take a three-year hiatus in 2011. As a result, Mark gained 40 pounds of fat due to inactivity.
Then Associate Will B. introduced Mark to the 30-Day Cleansing and Fat Burning System in 2013. Wanting to return to MMA as a professional, Mark decided to give Isagenix a try.
"He had been telling me about certain supplements I needed to try that would enable me to lose unwanted fat and promote lean muscle in the process," says Mark. "After a month of him preaching to me, I decided to give it a shot."
That "shot" resulted in Mark releasing 55 pounds* and building the lean muscle needed to compete professionally.
"My three-year comeback fight, which was a win, was against Alex Nicholson out of Florida," recalls Mark. "The fight was an absolute battle and Isagenix helped me become better."
---
Dale Allen
Striving for success and balance can be taxing on our health and this Mom of 2 was striving for perfection when her health was being driven to the ground. Her typical, busy lifestyle became a routine that was tipping the scales in a direction she didn't expect.
It had been another busy week of early morning runs to daycare with 2 young children, hustling back to the office to meet with my husband and business partner to now run our business for the day, then picking the boys up from daycare, feeding the family and having some family fun time, then the bedtime routine and managing any meltdowns, usually by our kids…reading a story to the boys in bed…and often unintentionally falling asleep with the kids. When we woke out of our exhaustion/coma-like state usually around 10 pm we would go down to our offices and work until 2 am in the quiet of the night. Fairly typical for any household with children and a home-based business.
I was training for a speaking engagement with my Mentor and in the calm and peace and quiet of her workspace. In the quiet, my body began to shut down. I found myself lying on the ground, unable to move. I was shivering in the heat of the summer, my head was pounding and all my body wished for was rest.
When this overwhelmingly sick sensation came over me, I felt listless and drained. My Mentor, whom I adore, introduced me to a nutrtional/cleansing system to add to my already healthy eating routine that I was open to trying immediately..(I HAD to be open!).
Since that day I have added this nutritional system to my daily love affair with creating a happy, healthy body and in doing so have become so clear that as a Leadership Coach, Business Owner of SxC Fit HIIT training classes, Athlete, Fitness Coach, Mom and Spouse, that life gets busy and that can catch up to you and have you chasing busy-ness to exhaustion. And another blessing that we could never have imagined is that people want to know why we are looking so great and so darn happy!! In sharing our story we have been able to help others look at their lives and health in a holistic way and experience health benefits that their bodies and minds are craving.
---
Dr George Fraser
For years I was 20-30 lbs overweight due to poor eating habits and a sedentary lifestyle. As I aged (65 plus) my energy was low…perhaps too low to do the high energy work God has put me here to do. My clothes didn't fit, I was always tired and grumpy…on 1 occasion I had to be hospitalized at my own conference….that sucks!
My brain was not sharp, clear and focused, and I found that I wasn't doing my best work. Then I met Suzan, she gave me an honest assessment and stern talk about the importance of my personal wellness in the context of my role in the AA community.
She prescribed a daily regimen of supplements, a modest diet, and a special drink which I drink twice a day. Within 30 days not only had I lost weight, my energy is back, my thinking is clearer and more focused…..Isagenix and Suzan rule!
---
Melvin Christopher
After having two siblings to succumb to the same debilitating illness, I decided it was time to get more serious about my health journey. I was introduced to Isagenix 10 years ago, at a time in my life when I was experiencing some health challenges. During my journey with Isagenix my health improved, I released pounds and inches, and increased my energy and stamina. Isagenix products have allowed me to enter into years of healthy aging.
Through the promotion of the Isagenix System, I have helped many people achieve their dreams and health goals all over the country. I never thought that being a health fanatic would lead me to an industry that would help people to change their lives both physically and financially. Also it never occurred to me that being a living testimony for improving Health and Wellness would solidify a business, afford a home and provide a near six-figure income.
My next Health and Financial goals include, being featured in the Isagenix IsaBody Look Book(Pictures of Transformation) next year and when I turn sixty in a couple of years. I would also like to become an Isagenix Millionaire and leave this financial legacy for my children.
---
Will Brown
Before Isagenix I had become acclimated to my everyday stresses. I was numb to the discomforts I carried in my body and my mind was overwhelmed to the point I couldn't sleep well most nights and often stayed in bed past noon on most days. I self-medicated with food, alcohol, and cigarettes. I was very short tempered and some have told me even evil. Even though my business was doing well and I could afford to do things many dream about, I could not find peace.
After I started consuming these amazing products I quickly released 50lbs and my energy level zoomed. I went from a certified couch potato to cycling hundreds of miles per week.  Just four months after buying my first road bike I cycled round trip 122 miles from Atlanta to Alabama. At 45 years old I feel that I am in better shape than I was doing Army PT back when I was in my 20s. Looking better is an awesome side effect, but feeling fit is what I am most grateful for.